The latest Wild Croft project for 2022 is Al's "Timbertunnel" design, a timber-framed rigid polytunnel. The original was built for ourselves and we have another few in the pipeline in the local area for friends, so we've decided to look into selling these, possibly from 2023 and this page is to gauge interest and give you a bit more info on the design.
---
Timbertunnel Concept
I designed a rigid polytunnel with the frame made from laminated timber several years ago, sketched it in 3D, costed it all out and then kept tweaking and modifying the design. But I never got to build it until this year! I wanted to design something that was made from locally grown timber but was also rigid and strong enough to cope with Scottish weather. Using twinwall polycarbonate sheeting adds strength and it will last far longer than conventional polytunnel sheeting. Recycled polycarbonate was also on the wishlist, but alas that's not available yet (not in clear, anyway).
The Design
As it turned out, the design is not entirely new – the shape is fairly well used in the US, known there as a "gothic arch greenhouse" with plenty of self-build examples on YouTube, It was quite funny to stumble upon them, having been sketching and pondering something very similar for ages. There are a few examples in the UK that folk have made, too. It's not really a "tunnel" as the curved sides meet at a solid timber ridge, which runs the full length. But 'timbertunnel' has a ring to it!
Here are the specs for my version;
Made from laminated Scottish-grown douglas fir, which is naturally durable
Covered in 10mm twinwall polycarbonate, which has a lifespan >15years and also gives some insulation
Secured using heavy duty steel ground anchors, and does not require concrete
Designed to last far longer than a standard polytunnel
Made to withstand strong winds and heavy snow
Most importantly, designed to look awesome!
If your land floods, you can flip it over and add a sail… (kidding)
The timbertunnel we built was 10.5m x 4.2m and has a central head height of around 2.6m. It has a large stable door at one end and a large window vent at the other end. Ours is not designed for raised beds, so it sits low to the ground and we will grow in the soil. Funnily enough my aim was not to make a beautiful boat-like structure, and definitely not to make a posh polytunnel!
Availability and Prices
The Timbertunnel will not be available in 2022, but we are considering starting to build these in 2023. We are also looking at designing a smaller version more suited to gardens; selling kits that you can build yourself; and selling detailed plans and build instructions for those who would like to try making one from scratch. If you're interested in any of this, then please fill out the form below and we'll keep you updated.
Prices are yet to be properly worked through but as an estimate, a 10.5m x 4.2m kit would cost in the region of £5,000 excluding delivery. A smaller 6m x 3m would probably be around £3,000.
Gallery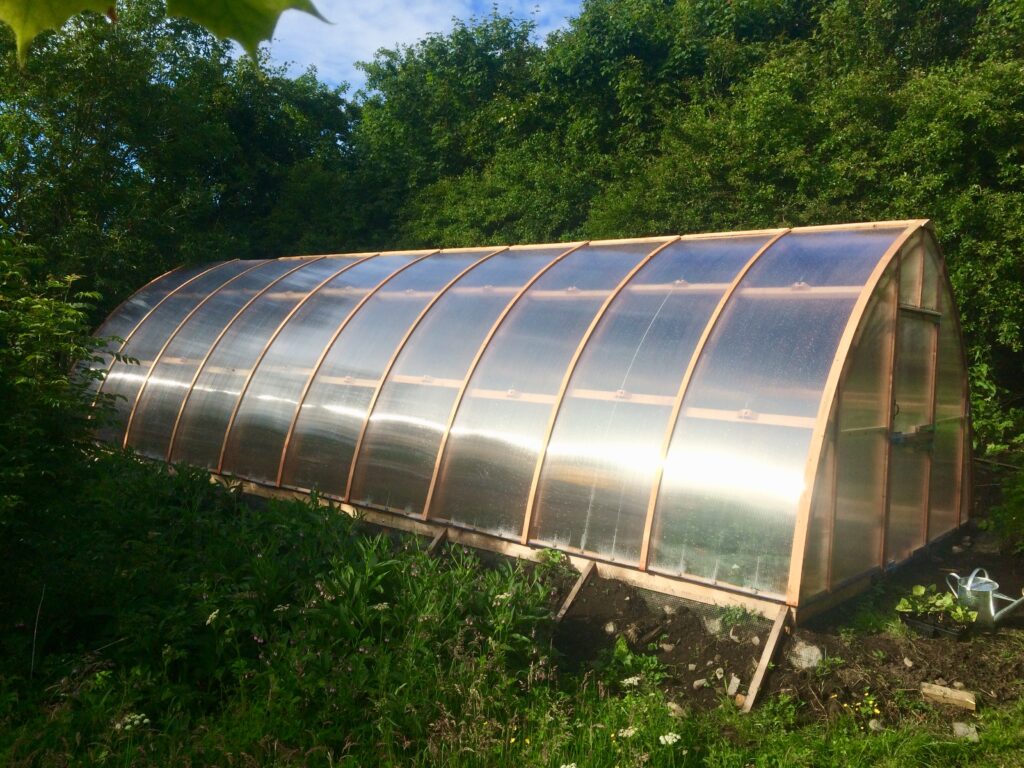 You are welcome to visit us if you're interested in seeing it and learning how it was made.
Register Your Interest
To help us gauge interest in the design, it would be great if you could fill out this quick form.