We're Al & Aurore Whitworth, crofters and crafters in the Scottish Highlands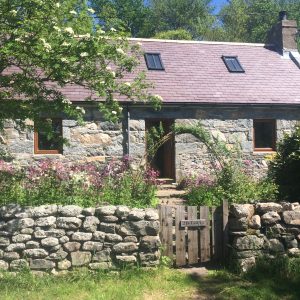 We previously lived in Shetland, where Al's parents and brother had crofts. We couldn't convince the local crofter to part with any land around our house though, so we could only grow a few vegetables and have a small greenhouse. We were trying to live more sustainably and in touch with the land so we started looking elsewhere for land.
With Al's interests in woodworking and Aurore's foraging passion we were looking for land with, or near to trees, perhaps to build a small cabin on, while we'd still live mainly in Shetland, where our jobs and friends were.
After a holiday along the north coast we spotted our croft for sale on the internet, in a little community called Skerray. We hadn't even considered the idea of moving off Shetland, but this seemed too good an opportunity to ignore, so we went for it. Within months everything fell into place and we had moved house. Now we just had to find some work.
About Al
Al is from England but moved to Shetland as soon as he finished university, falling in love with the big open spaces and seascapes. He worked as a project manager in oil & gas decommissioning before the stress of the career led him to change to being a self employed joiner and builder. He developed a woodcraft business as well as building work renovating old buildings as houses and studios.
Al continued doing building work in Skerray, but is now scaling this back, and working mostly on the croft with the tree nursery, managing the woodland and making small woodcraft items for sale online via this site, and our Etsy shop. In 2019 he made his first "Tiny House on wheels" and is now making a second – an ideal winter project for the quieter months on the croft.
He also works part time as a community taxi driver, occasionally designs websites, and is a director of the charity Reforesting Scotland.
About Aurore
Aurore is originally from Burgundy in France and moved to Scotland permanently in 2010. She was happy to do any job as long as she is where she wanted to be. She started as a hotel receptionist and ended up in Shetland where her and Al met (at a climbing wall!). After waitressing in the local café for a couple of years, she started her job as a relief postie.
Aurore's way of sending roots in her adopted country is by connecting with the land and the community. She is a keen forager and loves learning about the plants and their uses. The bottom oven of the Rayburn is rarely empty and you will usually find something drying/dehydrating in there!
Growing veg in the Highlands as opposed to Shetland poses different challenges and each season brings its lot of successes and failures. Always learning! Ultimately, when we find the varieties best suited for our place, Aurore is hoping to save our own vegetable seeds.
In March 2020 Aurore made her first willow baskets and it has become a real passion. She also enjoys weaving and experimenting with other natural fibers she can harvest locally. This, together with other art and crafts such as her serenity stones, is fast becoming her main activity.
Our Lifestyle
We moved here to further simplify our lives and connect to the land. We intend to have, and need, less money in the future as our preference is to barter, or just give! We do not aim to be self sufficient, but the croft will help us to grow some of our food and fuel, and we can sell and barter any surplus as well as making products from materials we grow and harvest ourselves.
We are enjoying getting back to what we feel crofting has always been about: living off the land without making a profit out of it. To achieve this in a sustainable way, we think diversity is key. The land has a lot to offer in a myriad of ways. As we learn about the land, we see more clearly how connected we are with it. This connection has given us a purpose we feel is incredibly worthwhile. In these increasingly troubled times it makes us feel safer and more determined than ever to heal and protect it. We are keen to share out journey and inspire and help out anyone who might want to undertake this journey themselves. Feel free to reach out!